The South Island of New Zealand is a haven for adventurers and nature enthusiasts, boasting a diverse array of breathtaking landscapes and thrilling activities. From soaring mountain ranges to pristine coastlines, this island paradise offers something to captivate every traveler. Join us as we unveil the top 15 must-do activities on the South Island of New Zealand that promise unforgettable experiences and cherished memories.
PS: All the activities we are recommending have been personally experienced by us. All photos unless otherwise credited are by the owners of Camper4Hire – Jana & Pedro
Embark on a mesmerizing albatross tour with Encounter Kaikoura and witness these graceful seabirds in their natural habitat. Marvel at the world's largest albatross colony and be awe-struck by their majestic presence.
Soar high above the majestic Fox Glacier on a thrilling helicopter ride. Experience unparalleled vistas of towering ice formations and pristine valleys that will leave you spellbound.
Traverse the stunning Diamond Lake and Rocky Mountains in Wanaka. The hike offers breathtaking views of Lake Wanaka and the surrounding alpine landscapes, making it a photographer's dream.
4. Bike Ride from Wanaka to Alberttown along Clutha River
Embark on a scenic bike ride from Wanaka to Alberttown along the tranquil Clutha River. This leisurely ride promises picturesque views of the river and surrounding countryside.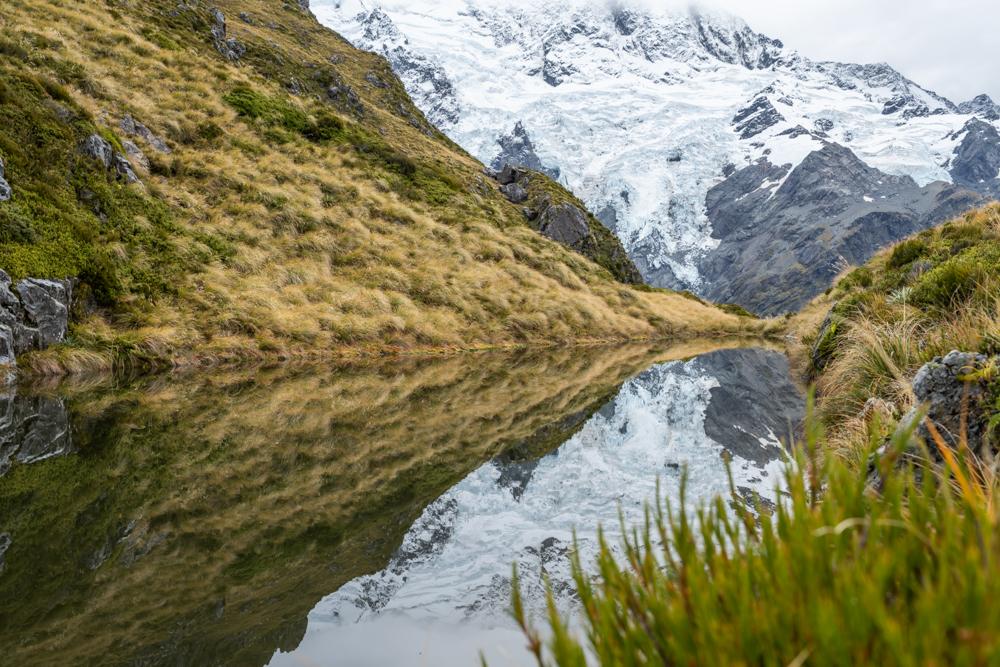 5. Hike Sealy Tarns Track in Mt Cook Regional Park
Challenge yourself with the Sealy Tarns Track hike in Mt Cook Regional Park. Ascend to stunning glacial tarns and be rewarded with panoramic views of Aoraki Mt. Cook and its surrounding peaks.
Immerse yourself in the beauty of Abel Tasman National Park with a kayaking adventure. Paddle along pristine coastlines, explore hidden coves, and encounter abundant marine life.
7. Take a Boat Taxi into Marlborough Sounds and Walk from Ship Cove to Furneaux Lodge
Embark on a scenic boat taxi journey into the serene Marlborough Sounds. Disembark at Ship Cove and hike to Furneaux Lodge, soaking in the tranquility of the native bush and coastal views.
8. Drive from Queenstown to Glenorchy with Stunning Views
Embark on a picturesque road trip from Queenstown to Glenorchy, renowned for its awe-inspiring vistas. The journey offers breathtaking views of Lake Wakatipu and the surrounding mountains.
9. Cruise the Doubtful Sounds
Venture into the pristine wilderness of Doubtful Sounds on a captivating cruise. Marvel at dramatic fjords, cascading waterfalls, and the untouched beauty of Fiordland.
10. Road Trip through the Catlins to Look at Sea Lions and Lighthouse
Embark on a thrilling road trip through the Catlins, known for its rugged coastal beauty. Witness playful sea lions basking in the sun and visit historic lighthouses along the way.
10. Explore the Clay Cliffs
Discover the otherworldly beauty of the Clay Cliffs in Omarama. These towering pinnacles of clay offer a unique and mesmerizing landscape.
12. Drive along Lake Hawea
Take a scenic drive along the shores of Lake Hawea, soaking in the tranquility and stunning vistas of this crystal-clear lake.
13. Stroll through Arrowtown in Autumn
In autumn, immerse yourself in the charm of Arrowtown with its golden foliage. Take a leisurely stroll through its historic streets and discover its captivating heritage.
14. Walk around Lake Matheson
Experience nature's mirror at Lake Matheson near Fox Glacier. The picturesque walk around the lake offers mesmerizing reflections of Aoraki Mt. Cook and Mount Tasman.
Unwind and rejuvenate in the soothing thermal pools of Hanmer Springs. Enjoy a blissful soak surrounded by majestic alpine landscapes.
The South Island of New Zealand beckons with a world of adventure and natural splendor. From encountering majestic albatross to soaring above glaciers and immersing in pristine landscapes, these top 15 activities promise an unforgettable journey of exploration. So, pack your bags, embrace the spirit of adventure and set forth to create cherished memories in this paradise of wonder. Happy travels!